Gamers truly are spoiled for choice these days and why shouldn't they be? After all, gaming keyboards and mice are fine-tuned and better than ever. And getting your gaming gear in a bundle is always better than searching for and buying each piece individually.
That's why we have searched the interwebs and brought you the best Gaming Combos for your next PC build.
Are you ready? Let's get into it!
What Is The Best Gaming Combo Feature?
When it comes to the best Gaming Combo, one key feature stands out: customization. Gamers demand versatility and control, and the perfect combo should offer a plethora of customizable options.
From programmable macro keys and customizable RGB lighting to adjustable DPI settings and interchangeable grips, the best combos empower players to tailor their gaming experience to their preferences.
With a personalized setup, you can optimize your performance, enhance your immersion, and truly dominate the competition. Choose a combo that unlocks your gaming potential and works well for your unique gaming needs.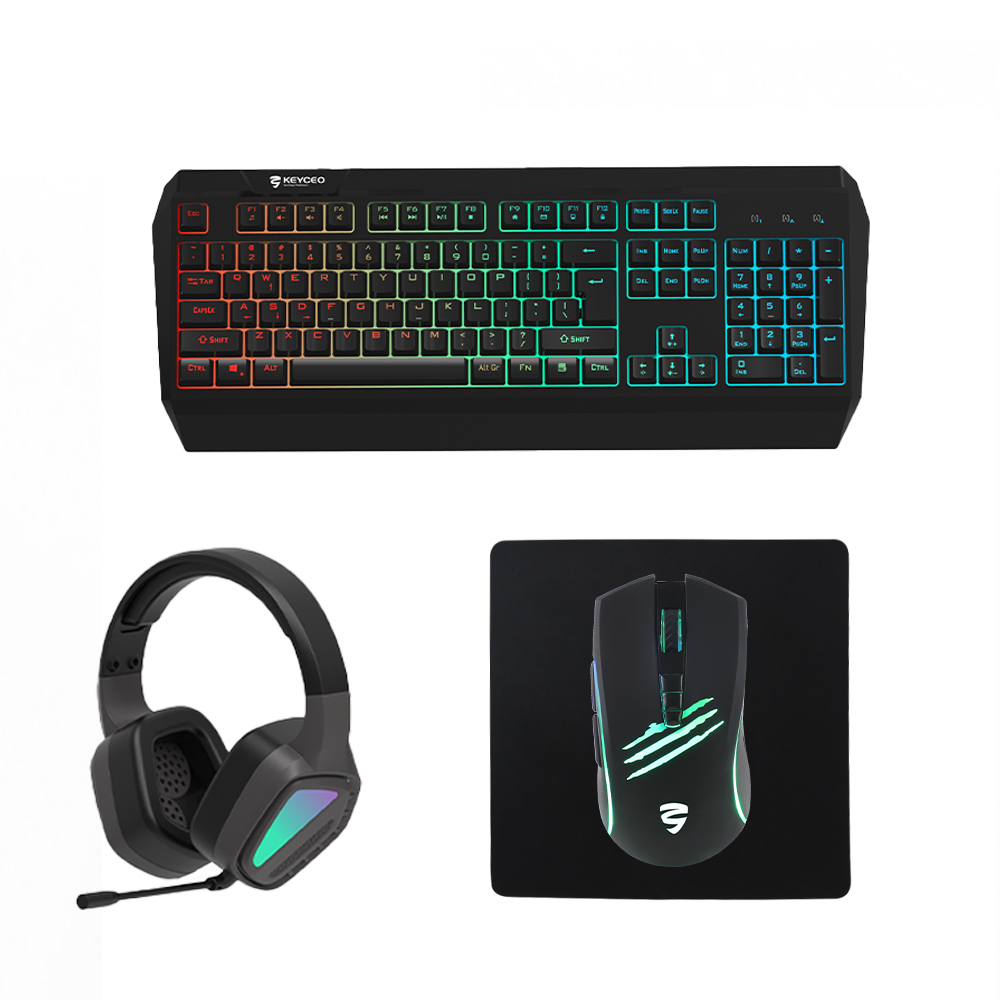 Introduction And Use Of A Gaming Combo:
In the world of gaming, the introduction of a gaming combo significantly enhances the gaming experience for players. This powerful combination brings precision, speed, and versatility to your fingertips, enabling you to fully immerse yourself in the virtual world.
The keyboard provides responsive keystrokes and customizable features, while the mouse offers precise accuracy and ergonomic design. Together, they seamlessly integrate to elevate your gaming performance. The key advantage of the best Gaming Combo is in its integration as the two peripherals are designed to work in unison. (And the lower overall price is also not bad.)
What Are The Conditions Of A Quality Gaming Combo
Having the best Gaming Combo can significantly elevate your gaming experience. Here are some key indicators of quality.
a)Precision and Responsiveness:
●Keystroke Accuracy: A quality combo must provide precise and consistent keystrokes, ensuring accurate registration of each input.
●Mouse Tracking: The mouse should deliver smooth and precise tracking, enabling accurate cursor movement and targeting in games.
b)Durability and Build Quality:
●Robust Construction: A quality combo should be constructed to endure the demands of intense gaming sessions, employing durable materials and a solid build.
●Longevity: The components, including switches and buttons, should have a long lifespan to ensure reliability and longevity.
c)Customization and Ergonomics:
●Customizable Features: A quality combo should offer customization options like programmable keys, adjustable DPI settings, and customizable RGB lighting.
●Ergonomic Design: The keyboard and mouse should provide comfort during prolonged gaming sessions, with proper wrist support and intuitively placed buttons.
d)Software and Compatibility:
●Dedicated Software: A quality combo often includes software for advanced customization and fine-tuning of settings.
●Compatibility: It should be compatible with multiple operating systems and offer reliable plug-and-play functionality.
How To Choose A Suitable Gaming Combo
To choose a suitable gaming combo, consider your needs and preferences. Follow these steps:
i.Assess gaming needs based on genre and playstyle,
ii. Set a budget and prioritize features,
iii. Research reviews for performance insights,
iv. Try combos before buying if possible, and
v.Check compatibility and connectivity.
By following these guidelines, you can confidently find a gaming combo that fits your needs and within budget. And, of course, enhances your gaming experience.
What Are The Most Famous Gaming Combos On The Market?
Here are our top four picks for the Best Gaming Combo:
1. Redragon Kumara Keyboard and Griffin Mouse Gaming Combo
Key Features:
●Hot-Swappable Mechanical Keyboard.
●7200 DPI Mouse offers excellent precision.
●RGB Backlighting can be changed between preset modes.
Pros:
√Competitively priced for the feature set.
√Mouse Pad is included with the bundle.
√ Keyboard can be customized with replacement switches and keycaps.
Cons:
×The original blue switches are loud.
×The mouse is a high DPI but is otherwise basic.
2. Keyceo KY-5000 Mechanical Gaming Combo
Key Features:
●Winkey Lock function for uninterrupted gameplay.
●Up to 2400 DPI mouse sensitivity for precise control.
●Easily switch between Arrow and WASD functions.
●12 built-in Multimedia Keys for added functionality.
Pros:
√The mouse is customizable and has 6 buttons for even more control.
√The keyboard is robust and has multimedia controls baked in.
√Long-lasting switches on the keyboard and mouse ensure excellent longevity.
√The most affordable combo on our list.
Cons:
×The mouse is only limited to 2400 DPI
3. Logitech MX Mechanical Gaming Combo
Key Features:
●Bluetooth and 2.4 GHz connectivity built in.
●Sleek and professional aesthetic for discrete gaming and work.
●8 Button mouse capable of up to 8000 DPI.
Pros:
√Not very gamer-y so can be used for both work and play.
√The mouse has great tracking and is very customizable.
√Build quality is excellent.
Cons:
×Very pricey.
×Key switches are low-profile and not hot-swappable.
4. Corsair K55 and Harpoon Pro Gaming Combo Bundle
Key Features:
●Zone Lit RGB Keyboard with 6 programmable macro keys.
●Dedicated volume and media keys.
●12400 DPI optical mouse with 6 programmable buttons.
Pros:
√The macro keys are a huge plus for gaming and productivity.
√The mouse has the most sensitive sensor of all our picks.
√Both peripherals have nearly no latency.
Cons:
×The combo is very pricey.
×The mouse is quite small and may not be comfortable for everyone.
How Do We Choose And Test The Best Gaming Combo?
Selecting the best Gaming Combo involves a rigorous process. We begin by conducting extensive research, considering features, user feedback, and expert recommendations. Next, we subject each combo to thorough testing. Our experienced gamers evaluate responsiveness, key feel, mouse accuracy, button placement, and ergonomic design. Durability is also a priority.
Through this meticulous approach, we identify top performers that offer superior customization options. Our goal is to provide you with the tools to unleash your gaming potential and rise to the zenith of the ranks in every game.
So In Summary:
There are definitely some amazing Gaming Combos out there which would be excellent for any gamer. Our pick would be the Keyceo KY-5000 Mechanical Gaming Combo for its great features and shockingly low price. It simply offers the best bang for the buck.
We hope that this article has helped you pick out your own Best Gaming Combo to take your gaming to the next level. Have fun out there!