Gaming, especially competitive gaming is all about the quickest reflexes and the most prompt response. The external speakers with your PC can only get you so far. What you need to really saturate your hearing and ensure split-second reactions is a good Gaming Headset. But finding the best Gaming Headset can be tricky. There are a plethora of options on the market and separating the wheat from the chaff is a difficult task.
Don't worry, that's exactly what this article intends to help you with. We have compiled some of the best Gaming Headsets to make your choice easier.
Ready to dive in? Let's get started!
1. What Is The Best Gaming Headset Feature?
When it comes to finding the best Gaming Headset, one feature stands out as the best: impeccable audio quality. Crystal-clear sound reproduction and impressive spatial awareness transport you into the heart of the gaming action. Every footstep, gunshot, or whispered clue becomes vividly apparent, giving you a competitive edge.
The ability to customize audio settings and the comfort of an ergonomic design are also crucial. Additionally, seamless connectivity with advanced wireless technology ensures an uninterrupted gaming experience. Choose a gaming headset that excels in audio quality for an immersive and thrilling gaming journey.
2. Introduction And Use Of A Gaming Headset:
Adding a Gaming Headset to your rig enhances your gaming experience. Plug it into your device and immerse yourself in the action with the ability to judge all that is happening. Built-in microphones facilitate clear voice communication with teammates. Designed for comfort during extended play, adjustable headbands, and cushioned ear cups minimize fatigue. With the best Gaming Headset in your arsenal, you are sure to have a better chance at total domination in your game of choice.
3. What Are The Conditions Of A Quality Gaming Headset
Having the best Gaming Headset at your disposal is a definite competitive edge. There are quite a few factors to consider when getting one, but here are some of the key markers of quality to look for:
I.Impeccable Audio Fidelity:
Look for crystal-clear sound reproduction and powerful drivers to make sure you hear everything loud and clear.
II.Comfort for Extended Gaming:
Comfort is key as you'll be wearing your headset for long periods. Prioritize adjustable headbands, plush cushioning, and lightweight materials.
III.Durable Construction:
Gaming headsets aren't cheap. Make sure the headset is worth the money. Opt for robust build, reinforced cables, and durable materials.
IV.Precise and Clear Microphone:
Communication means winning. A clear mic facilitates good communication. Choose noise-canceling technology and adjustable sensitivity.
V.Intuitive Controls and Customization:
In the heat of battle, you can't be bothered to faff around with your headset's controls. Seek easy-access volume controls and customizable features for minimum interruptions.
VI.Compatibility and Connectivity:
A headset is no good if it's finicky or just doesn't work. Ensure compatibility with various platforms and reliable wireless connectivity so you can concentrate on winning.
4. How To Choose A Suitable Gaming Headset
Selecting the right gaming headset can significantly enhance your gaming sessions. Here are key factors to consider.
Firstly, audio quality is crucial. Look for headsets that deliver immersive sound, with clear and accurate reproduction. Comfort is equally important for long gaming sessions, so prioritize headsets with adjustable headbands and cushioned ear cups.
Consider the connectivity options compatible with your gaming device, whether wired or wireless. Additionally, assess the microphone quality for effective communication.
Finally, factor in your budget and choose a gaming headset that offers the best balance of features within your price range.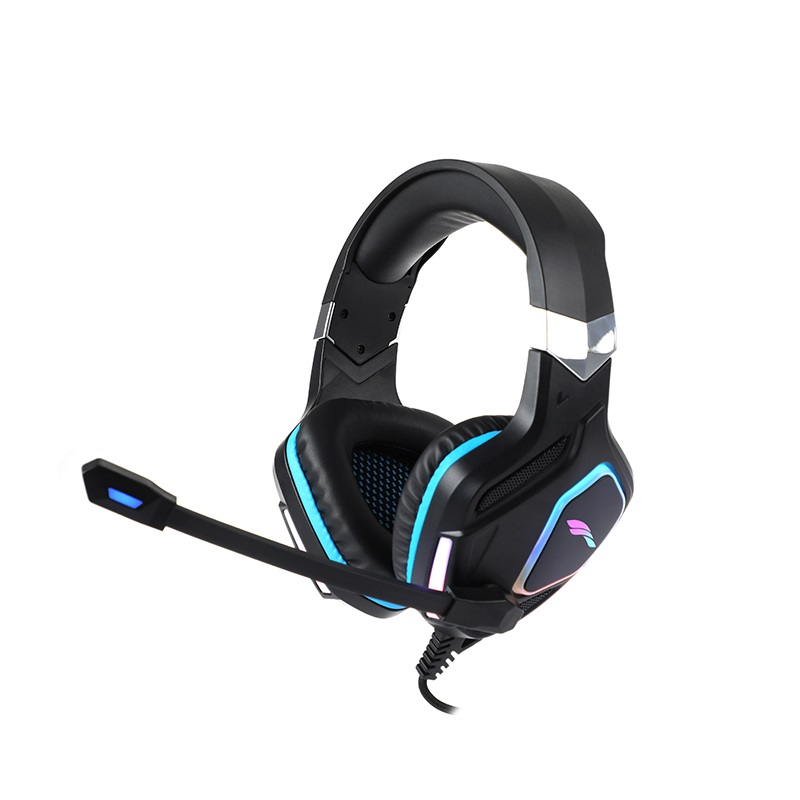 5. What Are The Most Famous Gaming Headsets On The Market?
Here are our top four picks for the Best Gaming Headset:
1.Razer BlackShark V2
Key Features:
●TriForce Titanium 50mm drivers for exceptional audio quality
●HyperClear Cardioid mic for crystal-clear communication
●THX Spatial Audio app for an immersive, customizable sound experience
Pros:
√Outstanding game audio with rich detail
√Comfortable for long gaming sessions
√Versatile and customizable through the accompanying app
Cons:
×Limited features on consoles
×Pricey
2.SteelSeries Arctis Nova 1
Key Features:
●Analog headset with plug-and-play simplicity.
●Slim and lightweight design with a comfortable fit.
●Good audio quality for its price range.
Pros:
√Lower Mid-Range Pricepoint.
√Comfortable and lightweight.
√Fully retractable microphone.
Cons:
×Analog-only, lacks wireless functionality.
×Generic design aesthetics.
Key Features:
●Large 50mm drivers for crisp, clear sound.
●120-degree swivel adjustment for the mic.
●High-quality and lightweight construction for long-term use.
Pros:
√Very competitively priced.
√Durable build with braided cable and ample padding.
√Crisp and neutral sound profile.
Cons:
×Not as premium-feeling as some of the other contenders.
4.HyperX Cloud Alpha
Key Features:
●Dual-chamber technology for better tuning of sound output.
●Solid build quality with high-quality materials.
●Comfortable fit with adjustable headband and padded ear cups.
Pros:
√Neutral sound quality.
√Durable construction and good material choice.
√Comfortable for long-term use.
Cons:
×High price.
×Somewhat heavy.
6. How Do We Choose And Test The Best Gaming Headset?
To find the best gaming headset we thoroughly test every option. We weed out the contenders, seeking audio excellence, uncompromising comfort, and durability. Our chosen headsets transport you into immersive worlds, with adjustable headbands and plush cushions for extended gaming sessions.
We ensure they withstand intense gameplay and offer seamless connectivity. From customizable features to intuitive controls, our evaluation process guarantees an exceptional gaming experience. It is our goal to give you the clearest possible information so you can choose the right gaming headset to propel you to the top of the leaderboard.
So In Summary:
The best Gaming Headphones provide you with the ability to discern the slightest noise and react quickly in-game. This is an advantage every gamer needs and deserves. Our pick for the best Gaming Headphones is the Keyceo KY-H047 because of their immersive and clear sound, impressive microphone performance, and competitive price tag.
We hope that this article has helped you come to a decision on what Gaming Headphones are best for you. Now go out there and dazzle the competition with your laser-focused precision.